DEVELOPMENT AND MANUFACTURING
Technology
New developments are made from multiple and flexible viewpoints with Human Technology as a key word.
The Design and System Engineering Divisions are well organized for development of new equipment based on the experience accumulated over the years. The trend of the latest food industry equipment is analyzed and developments are made on the newest of the systems. These analyzed data are stored into computers for future references.
The Design Engineering section uses these stored data in the shortest possible time to design special optional features required by each individual customer.
The parts and equipment components designed are stored in the computers for future customer servicing.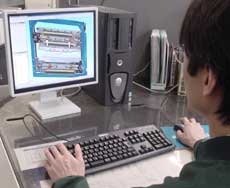 Designing with CAD/CAM greatly contributes to "Short Delivery and Lower Cost."
Manufacturing
Oshikiri always seeks a versatile production system and produces a various kind of excellent machines fitted to every customer's requirement. We have introduced new ideas into the manufacturing area. This system allows for reduction of labor and more consistent dimensions. We pursue manufacturing the products with high quality based on two basic themes, "Flexibility and Efficiency".
Also, Oshikiri products are very durable because we select high quality material for the machines. Furthermore, during the design phase, we consider ease of maintenance after installing the equipment.
Manufacturing Engineering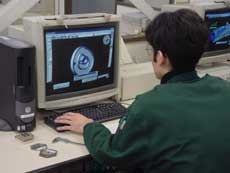 Automatic programming for machining equipment through CAD data. It greatly contributes to "High Quality and Low Cost".
Manufacturing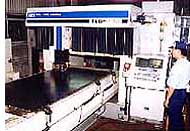 Two-dimensional laser machine has high performance carbon dioxide laser beam and is capable of cutting sheet materials in complex and highly accurate shapes.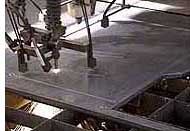 Two-dimensional plasma machine is utilized for thick stainless steel plates.
Computer controlled manufacturing machines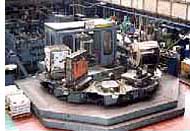 The large-scale machining center is automatically operated night and day. This is for large to mid size parts. It has 6 pallets and 180 tools and creates high quality machining.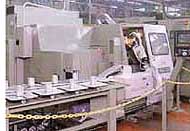 C.N.C. lathe is also automatically operated night and day. This is for mid to small size parts.
High Quality, Low Cost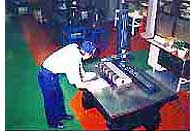 Quality is based on the inspection of each part. Each part has criteria and is severely inspected.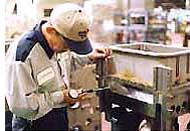 Accurate measurement in the process of Divider assembly. We pursue quality in every process. Measured data are recorded as QC data and stored in the database. These database are used for servicing and maintenance information.
Inventory Control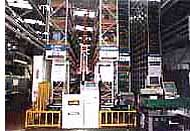 The automatic warehouse, which is controlled by computer in connection with production control, enables us to supply all parts in a timely fashion.