'MELON' Bun Line
A MELON BUN is a unique bun which is covered with biscuit dough and looks like musk melon. As the result of pursuit for a beautiful round shape, Oshikiri developed an Automatic Production System for Melon Buns. This system consists of 2 kind of equipment for bread dough and biscuit dough.
This system is also applicable for Roll bread production.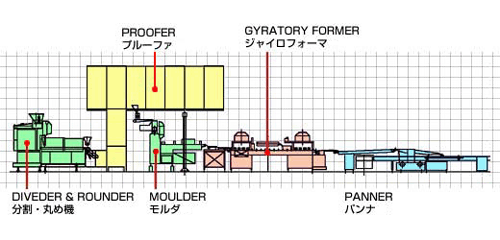 Dough Divider Model DGK
Precision and Flexibility


Pressure feed to dough changeable, divides dough with optimum pressure. Sucking stroke of main ram and knife changeable. Sucking stroke of main ram and knife changeable. Flexible setting of dividing mode and timing of each component with a basic program in compliance with dough weight and machine speed. Optional Auto-checker system enables highly precision dividing weight compensation even when batch shifting (only for model DKX & DMX).

Long Life


Replaceable front & bottom plate of dough chamber (i. e. sliding part) just by screwing.
Division head does not contact with sliding parts.
Replaceable dough chamber just by screwing.
Lubricating amount adjustable point by point for auto-lubricator.

Easy Cleaning


Components moves to cleaning position by one touch on touch screen.
Equipped with cleaning aid device for main ram and knife.
Even flip side easily cleaned.

Maintenance saving


Easily accessible configuration.
One-touch replaceable conveyor belt.
Lubricating points decreased by 50% in comparison with our conventional model.
Touch screen displays a message for lubrication when it is time.
Gyratory Rounder Model RGH
The volume of dough becomes larger with less dough damages.
No dough leakage as dough pieces are rounded by eccentric movement when intermittent moving rounder belt is stopped.
There is not heat due to no friction with metal as umbrella and bar typed rounders and cooling facility is not required.
Doubled dough pieces and proofer empty trays are removed by electrical interlocking with the divider.
Gyratory cups are selected from 5 kinds of cups and can replaced with one-touch.
Tightness of rounding can be adjustable with changing the number of revolution and height of cups.
Proofer
Intermediate Proofer Model PBS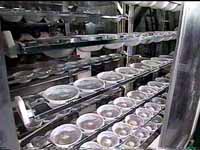 Standard 8 pocket Proofer does not have any empty pockets by operating synchronously with Rounder.
Resin made cups can be exchanged by one-touch for easier sanitation.
Residue Catch Pan is located under drive chain to prevent foreign objects from being mixed.
Single operation system continues working even when the prior equipment stops, no dough is wasted.
Moulder
Moulder Model M4/MP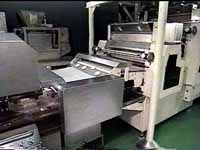 Special Teflon coated durable roller prevents sticking dough and provides excellent sheeting.
Various dough can be treated by selection of optional unit and fixed speed.
Gyratory Former
Gyratory Former Model RGM
This is the main unit of Melon Buns forming
and consists of 4 parts ;
Gyratory rounder.
Centering unit for biscuit dough.
Spray unit for better adhering biscuit dough to core dough.
Reciprocation unit for the best timing of merging of two kinds of dough.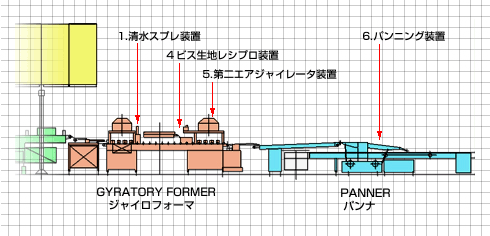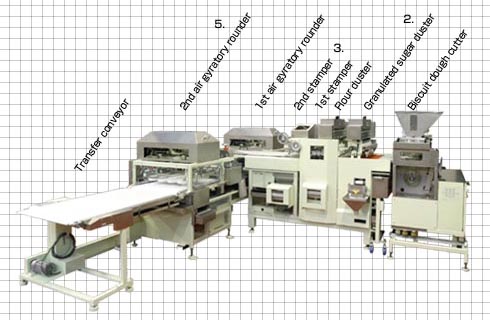 1. Water spray unit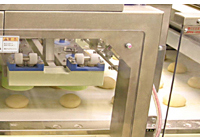 2. Granulated sugar duster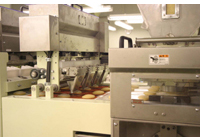 3. 1st & 2nd stamper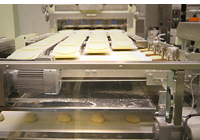 4. Reciprocator of biscuit dough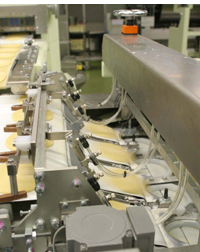 5. 2nd air gyratory rounder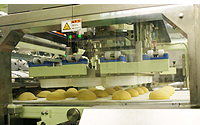 6. Panner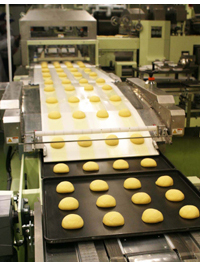 7. Reticulation stamper