'SHEET GOODS' Line
Oshikiri uses a standard sheet goods equipment by Moline Machinery Ltd., and then enhances and refines to develop a fully automated system.
Now the "MOL" system with automatic dough feeder has Oshikiri original dough sheet former (DSF, Pat. Penned in the USA and Japan). It supplies continuously flat dough evenly.
After the MOL system, Dough will be cut for large pieces and storage in the retarder automatically or goes to MOL make-up line for the doughnut, sweet dough, and pies/Danish/pastry.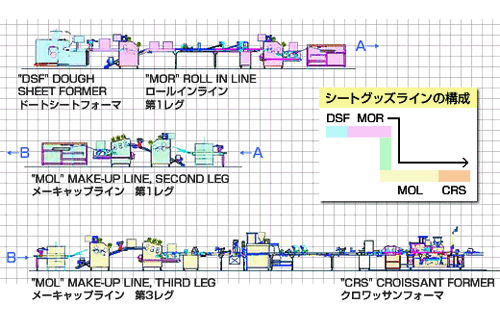 Dough Sheet Former
Dough Sheet Former Model DSF
Belt-shaped dough is easily formed into various shape at the next stage of the process
Measurement Feedback system ensures stable dough volume.
25 items can be registered with automatic programmable control.
Patented in both Japan & USA.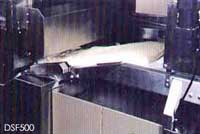 Roll-in equipment
Roll-in equipment Model MOR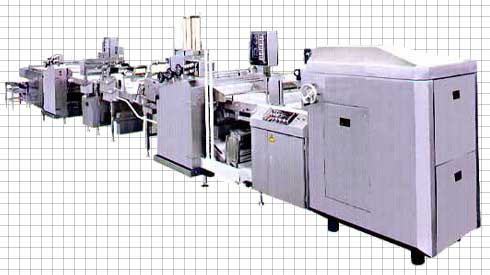 Belt shaped fat is extruded continuously on sheeted dough.
Fat is rolled in the dough sheet automatically by folding conveyor.
The use of Guillotine cutter enables to cut roll-in dough automatically into fixed cubes.
In addition, incorporating Laminator, Sheeter and Panner can make a fully automatic system of cutting, panning and storage in a retarding cabinet; rationalization of the retarding method is possible.
Make-up Equipment
Make-up Equipment Model MOL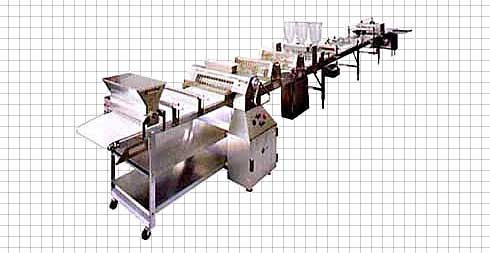 Components of straight line


Doughnuts moulding line, Sweet dough moulding line, Danish/pastry moulding line
Connection to DSF can be mass production line.

Components of "L" shaped line


Pie, danish and pastry moulding line
Connection to MOR can be total continuous sheet line.

Multiple leg line is available.
MOL/MOR ; Main components
Fat pump


Dual piston system minimizes change of fat rheology as these occurs rake kneeding effect.
Extruding nozzle gate consists of 3 blades with digital gauge and the fat is free from waving.

Folding conveyor line, one large and one small


Folds up dough sheet tightly.
Minimum dough layers in final moulded product are available.

Guillotine cutter


Select from air cylinder type and servo motor drive type according to capacity and uses.

Laminator


2 types are available ; front discharge type and edge discharge type.
Edge discharge type can be connected to 90° turning conveyor for feeding dough without laminating.

Sheeter (thickness reduction unit)


Only one way to reduce dough thickness without moving upper and lower layers.
2 types are available ; oscillation roller and sheeter for model DRU.

Oscillation roller


Thickness reduction unit with combination of dynamic action roller and sheeting roller.
Larger thickness reduction rate can be applied, and upper and lower layer will not be moved.
Patented in USA, Patent Pending in Japan.

Sheeter for model DRU


1-, 2- and 3-tier types are available.
Each type does not cause difference between upper and lower layers.

Others


Various accessories are available such as rotary cutter, etc.
Croissant Former
Croissant Former Model CRS
This equipment is Croissant former itself, and can be combined with "MOL"(make-up) equipment. Creates a handmade taste of clear cutting edge.
Folding roller creasing


Core of beginning of rolling can be firmly rolled.

Dough holding unit


No curve when rolling.

Watering drop


No extra watering.
Number of rolling is adjusted by Sheeting roller.
Upper unit is detachable and can be a work conveyor.
Quiet operation.